DFW and Texas Seasonal Patterns of Home Sales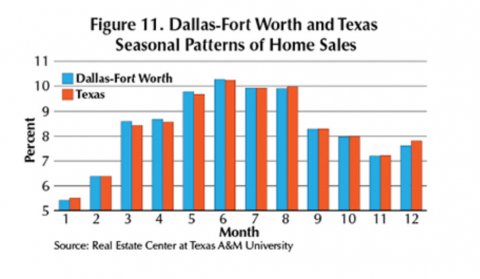 Now that we are entering the fall and winter months, I am often asked what is the seasonality of home sales in the Dallas-Forth Worth marketplace. Often buyers and sellers expect all activity to come to a standstill at the end of the year. Granted, no one wants to move during the holiday season, but many do move for personal and job related reasons. Here is the chart, each month shows the representative percentage of annual sales for that month in the Dallas-Fort Worth region and Texas as a whole. January is the deadest month at just over 5% of total yearly sales resulting from fewer contracts executed Thanksgiving through New Years. June is the busiest month with over 10%, not exactly the landslide many expect for the top of the season. May, June, July, August, is the Real Estate Season, as we like to say with those months in total nearing 40% of yearly sales.
Data courtesy of the Real Estate Center Texas A & M University.