New on the market – Home for Sale in Dallas, Texas $225,000.
---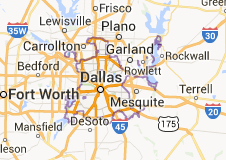 The Texas city known as Big D has more than enough room for those planning to move to Dallas, Texas. Business opportunities, Quality, Affordable Housing, Higher Education, Arts and entertainment, Friendly neighbors. More than 500 people move to the greater Dallas area each day from every part of the nation and the world for reasons as varied as they are. But the fact is that Dallas is big enough for all of them. Whatever the reason for considering Dallas, resources are available to help you understand why 6 million people now call Dallas home. Hurry up though. Someone else just arrived while you were reading this. Located in North Texas, Dallas is the main core of the largest inland metropolitan area in the United States that lacks any navigable link to the sea. Dallas and nearby Fort Worth were developed due to the construction of major railroad lines through the area allowing access to cotton, cattle, and later oil in North and East Texas.
The construction of the Interstate Highway System reinforced Dallas' prominence as a transportation hub with four major interstate highways converging in the city, and a fifth interstate loop around it. Dallas developed as a strong industrial and financial center, and a major inland port, due to the convergence of major railroad lines, interstate highways, and the construction of Dallas/Fort Worth International Airport, one of the largest and busiest airports in the world. The city is the largest economic center of the 12-county Dallas–Fort Worth–Arlington metropolitan area, which had a population of 6,810,913 as of July 1, 2013. The metropolitan economy is the sixth largest in the United States, with a 2012 real GDP of $420.34 billion In 2013, the metropolitan area led the nation with the largest year-over-year increase in employment, and advanced to become the fourth-largest employment center in the nation (behind New York City, Los Angeles and Chicago) with more than three million non-farm jobs.
The city's economy is primarily based on banking, commerce, telecommunications, computer technology, energy, healthcare and medical research, and transportation and logistics. The city is home to the third-largest concentration of Fortune 500 companies in the nation. In the latest rankings released in 2013, Dallas was rated as a "beta plus" world city by the Globalization and World Cities Study Group & Network and was 14th in world rankings of GDP by the Organisation for Economic Co-operation and Development.
See What People in Dallas Are Saying About DFWCityhomes