$795 Set Up Fee • $595 Representation Fee • 3% Sales Price Paid to Buyer's Agent at Closing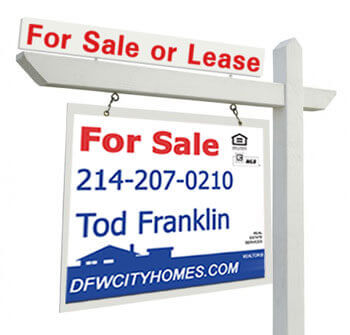 Sometimes, one way or another, you need to get out of your house to stop the drain on finances.
We prefer that you are successful selling your home. You have a fall back position if your home does not sell. Our MLS Sell or Lease Listing is two separate listings and listing agreements. A "For Sale" listing with the features of the Flat Fee MLS Listing and a separate "For Lease" listing created from the same information plus the additional description of lease terms. Additionally, your yard sign will have a "For Sale or Lease" banner and your marketing materials will describe each option.
Why do I need two listings? Most sellers don't know you need two listings because most Agents won't tell them so. 6% Realtors are in the business of selling homes not leasing them. They would much rather have a chance to sell your home than lease it. To most Realtors, leasing is a last resort.
In MLS, realtor.com, and all other Internet real estate advertising sites people can search for either a home for sale or a home for lease. These are two separate search activities of two different databases. The only way both a buyer or tenant will find your listing is to have two listings, one for the Sale and the other to Lease.
What happens next? When you get your first offer you can decide how you wish to proceed. If it's a qualified buyer it's sold! If it's a qualified tenant your situation probably dictates you lease it. From there we help you negotiate and close the deal.
How much does it cost? The cost is $695 paid in advance. Our MLS Sell or Lease Listing gives you the best of all worlds. A chance to sell your home and the safety net of a lease.
Interested in learning more? Click Contact Us or Call (214)-207-0210 for Immediate Service.
Take a look below at our Flat Fee MLS Listing Service Features:
MLS Listing Services Feature Comparison Chart
When you see this symbol hover or tap for more information
| Sell or Lease MLS Listing Service | |
| --- | --- |
| Setup Fee | $795 |
| Fee Paid at Closing | $595 |
| Buyer Agent Commission | 3% or 50% |
| Term | 6 Months |
| Cancel at Any Time | |
| No Hidden Fees | |
| In-Home Consultation | |
| Set Marketing Goals and Objectives | |
| Maximize Your Profits with a Comparative Market Analysis (CMA) | |
| Single Point of Service | |
| Full Representation | |
| Maximum Exposure Begins with the Multiple Listing Service (MLS) | |
| Qualifying Leads from Sales and Marketing | |
| Professional Photographs | |
| Professional Yard Sign | |
| Electronic Supra Lock Box | |
| Audio Tours, Video, Virtual Tours | |
| Internet Syndication and Activity Reporting | |
| Social Media | |
| Flyer | |
| Open Houses | |
| Appointment Scheduling – Centralized Showing Service (CSS) | |
| Contract and Forms | |
| Electronic Signature | |
| Closing Activities | |
| Choices of Representation | |
| Brochure | |
| Information Book | |
| Expert Staging Advice | |
| Special Advertising and Promotion | |