What People are Saying about DFWCityhomes?
We take pride in the high quality of our service and the results of our valued, high trust relationships. For that effort, we have many repeat and referral clients. We look for long-term relationships that extend to friends and family. Those looking for professional, trustworthy, high quality services. Please take a minute to watch our video and read these reviews so you may see what our clients say about us.
Real Words from the Wise….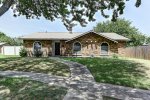 It was a pleasure working with Tod. Tod brings a real-estate agent's marketing model into the 21st century. Why would anyone pay an extra 3% for a selling agent when in today's world we have all of today's technological advances?

Tod provided me with the same realtor expertise and everything I needed from a realtor as those who charge those high fees. Tod did a great job in providing with guidance on selling my home and insuring the deal got done fast. And Tod is not like many of these realtors who insist on setting a low market value in order to sell your home quickly. I got what I wanted for home and was not going to be bullied to offer a price below market value just to sell the home quickly- which is a marketing scheme common to some realtors.

I highly recommend Tod for your next real-estate transaction. Thank you Tod for a job well done, and for the several thousands of dollars I get to keep.

Review from Google Places.