Incredible lot on a beautiful wooded creek in North Arlington's Parkway North Subdivision. Minutes from Texas Ranger Golf Club, AT&T Stadium, Texas Rangers Ballpark, Six Flags, and DFW Airport. Arlington Schools.
Click on this link to watch video tour:
https://dfwcityhomes.com/texas/arlington/video-arlington/2709-buttermilk-dr-arlington-tx-76006/
Use the map below to see route that works for you:
About Arlington, Texas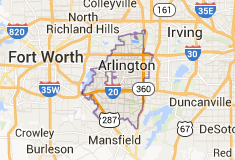 Arlington, Texas, is the third-largest city in the Metroplex, seventh-largest in the state, and 49th largest city in the United States with an estimated population of over 400,000 people as of 2021.
Arlington is known for being home to several popular attractions, including the AT&T Stadium, which is the home stadium of the Dallas Cowboys football team, and Globe Life Field, which is the home stadium of the Texas Rangers baseball team. The city is also home to Six Flags Over Texas, a popular amusement park, and Hurricane Harbor, a water park.
In addition to its tourist attractions, Arlington is home to several universities, including the University of Texas at Arlington, which is one of the largest universities in the state. The city has a diverse economy with industries such as healthcare, education, manufacturing, and technology.
Arlington is also known for its rich history and cultural heritage, with several museums and historical landmarks, including the Arlington Museum of Art, the International Bowling Museum & Hall of Fame, and the Fielder House Museum. The city has a diverse population with people from different cultural backgrounds and is known for its friendly and welcoming atmosphere.
See What People in Arlington Are Saying About DFWCityhomes
Frequently Asked Questions
What is a Flat Fee MLS Listing?
In a Flat Fee MLS Listing arrangement, a seller contracts with a real estate broker to list their property on the MLS (Multiple Listing Service) for a flat fee instead of paying the traditional percentage-based commission to the listing agent. This allows the seller to save money on the listing side of the transaction while still getting the exposure and marketing benefits of the MLS.

When sold, the seller is responsible for paying the buyer's agent commission, which is typically around 2-3% of the sale price. This type of arrangement can be beneficial for sellers who want to save money on the listing side of the transaction and have some experience in real estate transactions, but it is important to note that the seller may need to handle aspects of the selling process themselves.
What is a Buyer Rebate?
When buying a home, the seller pays a buyer agent commission. Our rebate is one-third of that commission paid back to you as an incentive to do business with us. You save a lot of money and can use your rebate for anything you want.
What is a Multiple Listing Service (MLS)?
An MLS is a centralized database used by real estate brokers and agents to share information about properties for sale, providing detailed information including the listing price, property features, location, and other important details, and increasing visibility for potential buyers.

The MLS is run by local or regional realtor associations, and offers full market exposure to buyers and sellers, with more than 800 associations across the USA. According to National Association of Realtors (NAR), MLS transactions accounted for about 92% of home sales in 2020. Overall, the MLS promotes transparency and efficiency, making it easier for buyers and sellers to connect and complete real estate transactions.

MLS listings are an essential tool for both buyers and sellers in the real estate market. Buyers can use the MLS to search for properties that meet their specific criteria, while sellers can use the MLS to get full exposure to the marketplace, offering their properties to a large audience of potential buyers. Overall, the MLS helps to promote transparency and efficiency and makes it easier for buyers and sellers to connect and complete real estate transactions.
What is a For Sale By Owner (FSBO)
FSBO is a real estate transaction where the seller chooses to sell their property without an agent. The seller assumes responsibilities such as pricing, marketing, negotiating offers, and managing the closing process. FSBO transactions are typically undertaken by sellers who want to save money on real estate commissions or have experience in the real estate industry.

However, FSBO transactions can be challenging as the seller may lack the experience and resources of an agent. It is important for sellers to weigh the pros and cons before deciding to go this route. Working with a reputable and experienced real estate agent or broker can provide valuable expertise and guidance throughout the selling process.
What is the difference between a Flat Fee MLS Listing and traditional Realtor® 6% listing service?
A Flat Fee MLS Listing is different from a traditional 6% listing in how the real estate agent is compensated. In a traditional listing, the seller pays a percentage-based commission of typically 5-6% of the sale price to the listing agent, who then splits that commission with the buyer's agent. In contrast, a Flat Fee MLS Listing involves a flat fee paid by the seller to the agent for listing the property on the MLS, with the commission paid to the buyer's agent usually specified separately. While the fee structure is the main difference, there are also differences in the services provided.

In a traditional listing, the listing agent handles most aspects of the selling process, while in a Flat Fee MLS Listing, the seller is responsible for some tasks. It is important to research providers and understand what services are included in the fee. Using a Flat Fee MLS Listing can avoid the conflict of interest in dual agency, where an agent represents both the buyer and the seller. Ultimately, the choice of listing service depends on the seller's goals, preferences, and comfort level with the selling process.
What questions should I be asking brokers and agents?
What are the fees and commissions?
Do you help with pricing strategies?
How will you market my property?
How will you schedule appointments?
What is your track record?
How do you provide representation?
Who is the central point of contact for buyers and buyer agents?
Do you provide transaction and closing assistance?
How long will it take to get my listing in MLS?
How are documents completed and signed?
How do you communicate with me?
Who is the point of contact?
*Some features excluded in the Limited Flat Fee listing Service
What should I do to get my home ready to sale?
The way you sell a home and live in a home are different things. The foremost number one thing to do is, "declutter" counters, walls and rooms. I walk into showings all the time and the garage is stacked floor to ceiling with Tupperware crates of removed clutter. Clean and make attractive all rooms, furnishings, floors, walls and ceilings. Make sure the basic appliances and fixtures work and get rid of leaky faucets and frayed cords. Make the house smell great.
Should I make repairs to sell my home?
Making repairs leads to a better sales price and a faster sell. It's not always an easy decision about what to do and how much to spend. Your market analysis and agent should assist you in making repair decisions.
How will I see where my home is shown on the Internet?
It is simple, in considering listing services, enter the property address and Google search some of their active listings. After your listing is live, Google search your property address. You will see all the major sites on the first page. 

We make sure to list your home on a wide range of websites, including Realtor.com®, Trulia, Zillow, and various real estate firms. In addition, we also post your listing on social media platforms such as Facebook, Twitter, Pinterest, and more.
What are the steps involved in selling my home?
Selling a home requires an accurate asking price and understanding of selling options. Homeowners can choose to sell on their own through a For Sale By Owner (FSBO) arrangement, but this can be complex and time-consuming. Many prefer working with an experienced real estate broker or agent, who can provide expertise, guidance, and support throughout the process.

Steps include determining the home's value, establishing timeline and budget, choosing a listing service, preparing the home for sale, marketing the home, receiving and reviewing offers, negotiating the sale, completing the sale, and moving out. These steps can be complex, which is why many homeowners prefer to work with a brokerage such as DFWCityhomes. Click here to Submit a Request For a Proposal.
---
Our Track Record
I'm excited to announce that after 18 years of providing dedicated service, our clients have collectively saved over $10,000,000 in commissions! Among these savings are over $1,100,000 for clients who found unrepresented buyers and were able to avoid any selling costs. On top of that, we've distributed more than $330,000 in incentive rebates to over 100 satisfied buyers. These remarkable achievements are a true testament to our commitment to providing high-quality, cost-effective real estate services to our clients.

Tod G. Franklin – Realtor®, Broker, Owner, and multi-million dollar producer at DFWCityhomes
Our Services and Solutions
---
DFWCityhomes is an established and highly regarded Flat Fee MLS Listing Service company in Texas. We have been providing dedicated service for almost two decades delivering personalized service to each client. As the best Flat Fee MLS Listing Service in Texas, we offer affordable and excellent service, while our track record showcases our commitment to professionalism, integrity, and customer satisfaction.
Visit our MLS listing comparison chart and Flat Fee MLS Listing Services to see a detailed breakdown of the different plans and their features.
You can Contact Us or call (214)-207-0210 to speak with a Realtor® and find out how we can save you time and money.
DFWCityhomes offers low-cost MLS listing services for clients looking to sell their homes and save on commission fees. We prioritize accuracy, efficiency, and personalized support to ensure a successful outcome. Our approach involves face-to-face interactions and building strong, trustworthy relationships with our clients.
We offer affordable and effective real estate services that get your home in front of potential buyers. Our efficient operations and advertising deliver maximum value, while building strong client relationships.
Our team is here to help you make informed decisions. Contact us through our website or call us at (214)-207-0210 to speak with one of our team members. We offer a variety of Flat Fee MLS Listing services with different plans to choose from. Visit our Flat Fee MLS Listing Services and MLS listing comparison chart for more information on each plan's features. We're happy to answer any questions you may have and assist you in starting the process of selling your home.