Buyer Rebate
1% or 2% Rebate Paid at Closing
Ready to Buy a Home? Let us guide you through the buying process.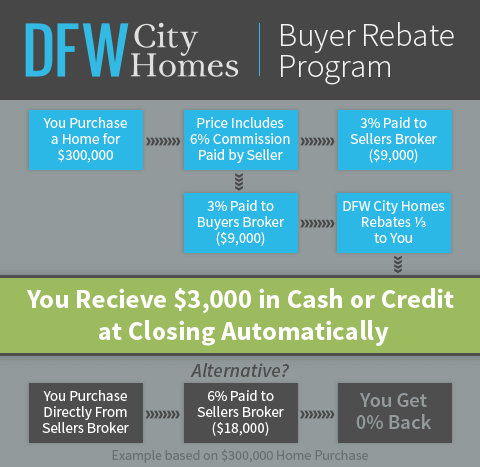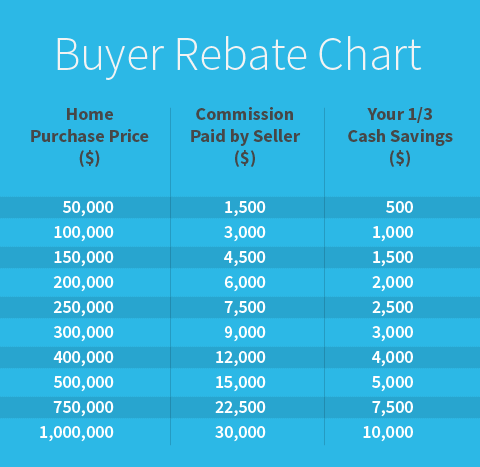 Our Buyer Rebate Incentive Program is designed to assist those who are looking to purchase a home in the Dallas-Fort Worth area. With this program, you can benefit from significant savings and secure the best deal possible. When you participate, we'll provide you with a 1% rebate on the purchase price of your new home at closing. This rebate is funded by the seller of the property, who pays us a commission. We're delighted to offer a portion of that commission as a reward for using our services.
We will be your trusted partner throughout the home-buying process. Our team will be there to support you every step of the way. We'll work with you to find homes that meet your specific requirements, schedule showings, provide you with an estimate of your buyer incentive and closing costs, and offer you a Buyer Representation Agreement. Additionally, we'll assist you with financing and pre-approval. We will negotiate the best possible pricing and terms on your behalf, clarify any contracts and documents, and guide you through the entire closing process.
Please note that this program is available anywhere in the Dallas-Fort Worth Metroplex, but we can only pay your rebate at closing if it's included on your closing statement. Your loan program may also affect your ability to receive the rebate, so it's important to talk to your lender about your options. Our minimum commission is 2% of the purchase price, with a minimum purchase price of $300,000.
Should you not need us to show you any homes, we offer a 2% rebate.
If you're ready to buy a home, call us at (214) 207-0210 for immediate service, or click here to search for homes.
| | | |
| --- | --- | --- |
| | 1% Buyer Rebate ($300,000 Example) | Other 6% MLS Realtors |
| Type of Client | Qualified Buyer needing services that are professional and the same as those offered by 6% real estate companies. Minimum purchase price of $200,000. Available anywhere in the Dallas Fort Worth D-FW metroplex. | Any qualified Buyer looking to buy a home. |
| Agent Commission | 3% paid by Seller to agent at closing. 2% paid to DFWCityhomes. 1% credited by DFWCityhomes to you. | 3% paid by Seller to agent at closing. |
| Cost to You | We pay you 1% of the price of your new home for the privilege of helping you buy your home. | $0. |
| Term | 6 months or the same as your listing agreement. Your Buyer Representation Agreement includes your Buyer Rebate commitment from us to you in writing. You must work exclusively with us to find your home to purchase. You can cancel at any time. | Usually 6 months and sometimes with residual rights to a commission and a fight to cancel before end of term. |
| Buyer Rebate | Using the $300,000 example, $3,000 paid to you subject to lender requirements. Use it for closing costs or anything else that comes to mind! | Buyers get $0. Plus, you may have hidden costs in time and lost opportunities. |
| Support | We show you homes and provide any support you require to purchase your new home. | Any, as long as commissions look promising and expertise isn't in question. |
| Forms and Contracts | All forms and contracts are completed and prepared by DFWCityhomes and approved by you. | All forms and contracts. |
| Electronic Signature | DocuSign. | Varies by Agent and Broker. |
| Offer Price | We help you determine your offer price that fits your market and situation. We use Competitive Marketing Analysis (CMA) and confidential Agent Reports to understand your market and make recommendations. | Competitive Marketing Analysis (CMA) Reports with selectively chosen properties to convince you to agree with their buying strategy. |
| On-site Assistance | We do it all and provide advice and opinion one on one as required to purchase your home. We assist you in acquiring loan approval, making offers, previewing homes, finding inspectors, negotiations, working with title companies and anything else required to get you in your hew home. | All on-site assistance as long as commissions still look promising. |
| Showings | We open homes based on instructions provided by CSS, seller, or agent. We set up appointments and show you homes you are interested in. | Service and representation as required to help a buyer buy your home or any other they can put them in. |
| Finding Homes | We analyze your needs and provide you with an MLS Buyer Portal. This is a personalized website that displays homes that meet your requirements in your market area. It notifies you when new homes come on the market at the same time agents and other third party sites are notified. With this up-to-date information we can compete with any buyer to get you the best homes as they come available. | Tools for Buyers vary by agent. Keep in mind MLS is the only source of homes listed by agents. All sites get their listed home information from MLS. Some have additional For Sale By Owner (FSBO) offerings. Failure to remove sold homes from these sites leads the public into thinking offerings are vastly different. |
| Other Assistance | We encourage you to use any tools available to find your dream home. | Open house showings vary by agent. For 6% agents, open houses are an effective technique to find more sellers and buyers for themselves. |
| Making Offers | We submit offers on your behalf. We explain contracts and terms and construct an offer based on your requirements and the sellers to present the best possible offer for acceptance. We are very familiar with multiple offers and unique opportunities. | Texas law requires all agents to pass all material information between the seller and another broker. 6% realtors are highly interested in closing deals and may find it difficult to avoid putting their interests above yours. |
| Participation | We respond to any requirements required of the parties and coordinate access to the property. We guide the closing process and participate in closing at the title company with you. We take care of any requirements with your participation as necessary. | A high level of interest is applied to closing activities. Varies by agent and is driven by commission opportunities. |
| Licensing | DFWCityhomes and its Real Estate Professionals are licensed by the Texas Real Estate Commission (TREC). TREC is the state agency responsible for licensing real estate professionals in Texas. Our license number is 581738 for our Company and 0540728 for our Broker. We are fully compliant with current Texas state law and real estate commission rules. | All Texas realtors must be licensed by the Texas Real Estate Commission (TREC). TREC is the state agency responsible for licensing real estate professionals in Texas. |
---
Our track record
I'm excited to announce that after 18 years of providing dedicated service, our clients have collectively saved over $10,000,000 in commissions! Among these savings are over $1,100,000 for clients who found unrepresented buyers and were able to avoid any selling costs. On top of that, we've distributed more than $330,000 in incentive rebates to over 100 satisfied buyers. These remarkable achievements are a true testament to our commitment to providing high-quality, cost-effective real estate services to our clients.

Tod G. Franklin – Realtor®, Broker, Owner, and multi-million dollar producer at DFWCityhomes
Our Services and Solutions
Our MLS Association Partners
DFWCityhomes is an established and highly regarded Flat Fee MLS Listing Service company in Texas. They have been providing dedicated service for almost two decades delivering personalized service to each client. As the best Flat Fee MLS Listing Service in Texas, they offer affordable and excellent service, while their track record showcases their commitment to professionalism, integrity, and customer satisfaction.
Visit our MLS listing comparison chart and Flat Fee MLS Listing Services to see a detailed breakdown of the different plans and their features.
You can Contact Us or call (214)-207-0210 to speak with a Realtor® and find out how we can save you time and money.