What is a Flat Fee MLS Listing?
A "Flat Fee MLS Listing" refers to the practice in the real estate industry of a seller entering into a service agreement with a REALTOR® who accepts a flat fee rather than a percentage of the sale price for the listing side of the transaction.
What is a Multiple Listing Service (MLS)?
Today, through more than 800 local and regional MLS associations across the USA, REALTORS® share information on properties they have listed and invite other brokers to cooperate in their sale.
What is a For Sale By Owner (FSBO)
Abbreviated as FSBO, a home offered for sale without the assistance of a real estate agent. FSBO's receive a ton of calls from agents trying to get an MLS listing.
What is the difference between a Flat Fee MLS Listing and traditional 6% listing service?
The cost of the listing is a fixed amount not a percentage.

What is the difference between a Flat Fee MLS Listing and a FSBO?
We know the FSBO seller does all the work to avoid agent fees and commissions. A Flat Fee Listing is a logical next step if you want the exposure provided by MLS.
What questions should I be asking?
What are all the fees and commissions? (Avoid hidden fees)
Do you help with pricing strategies? (Get a market analysis and explanation)
How will you market my property? (MLS, photos, web sites, sign, flyer)
How will you schedule appointments? (You or a showing service)
What is your track record? (Past performance, how many deals are you working)
How do you provide representation? (Who is the point of contact, who handles negotiation)
Do I have to speak to buyers and their agents? (You or agent)
Do you provide transaction and closing assistance? (You or agent)
How long will it take to get my listing in MLS? (Days or weeks)
How do you communicate with me? (Email, text, phone, help desk)

What are my closing expenses?
Your REALTOR® can help you understand your closing expenses at the time of the listing based on your approximate list price. When an offer is received another evaluation is required to correctly understand the offer in hand.
How does the buyer agent get paid? Why am I paying his commission?
Buyer agent fees are always confusing. Real Estate is a unique industry in that the Seller sets and pays the representation fee for the Buyer. The amount you pay is negotiated in your listing agreement.
What should I do to get my home ready to sale?
The foremost number one thing to do is declutter and clean.
Should I make repairs to sell my home?
A market analysis and REALTOR® can assist you in making repair decisions.
How will I see where my home is shown on the Internet?
After your listing is live, Google search your property address. You will see all the major sites on the first page. 
What are the steps involved in selling my home?
It can be complicated. For this reason, most people consider the fee paid to a REALTOR® worth the investment.
---
DFWCityhomes is an established Flat Fee MLS listing Service and Full Service real estate company that represents buyers and sellers in Euless, Texas. Our clients receive a full service experience with agent representation at a fraction of the cost. Our simplified process is hassle free, proven, and effective.
Interested in learning more? Watch this video and click MLS Listing Services and Buyer Rebate Service to see how we may help you. Contact Us or Call (214)-207-0210 and we will explain to you how our services can save you time and money.
---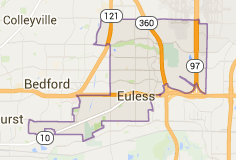 Euless, Texas is a community of about 53,000 located on the southwest side of Dallas/Fort Worth Airport. Euless is part of the Hurst-Euless-Bedford area. The three communities share a top-rated school system, a hospital district, and the Chamber of Commerce. Euless is known for its trees and its Arbor Daze Festival each April, promoting the planting of trees through the city. Euless also has a beautiful network of hiking and biking trails connects two major parks. Euless, known as "Tree City USA," is a city in Tarrant County, Texas, United States, and a suburb of Fort Worth. Euless is part of the Mid-Cities between Dallas and Fort Worth. The population was 51,277 at the 2010 census.
See What People in Euless Are Saying About DFWCityhomes