Luxury Home Flat Fee MLS Listing • $995 Setup Fee • $3,000 Full Representation Fee • 2-3% Sales Price Paid at Closing to Buyer's Agent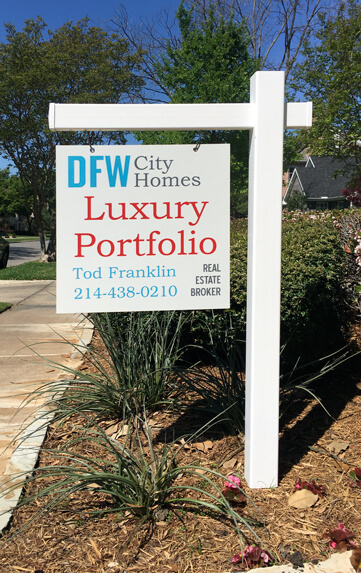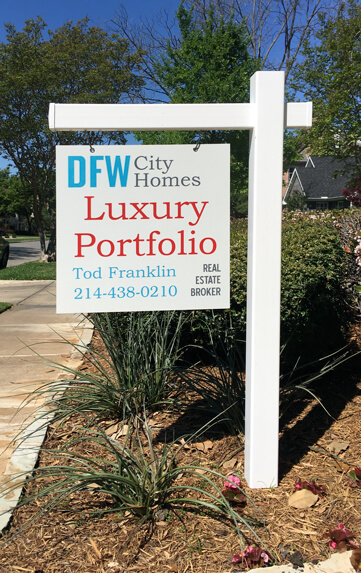 For an upfront fee of $995, our Luxury Home Flat Fee MLS Listing Service is designed to facilitate the selling of your luxury home from the listing, marketing, contract negotiation, and pending process to the final rewards of a closed sale.
Selling your luxury home requires an excellent and effective marketing plan, expert advice, personal service, truly exclusive representation, and greatest exposure. We meet with you at your home to preview your property, design your custom home selling plan, review the listing agreement and your market analysis, and give advice and opinion on pricing strategies.
Interested in learning more? Click Contact Us or Call (214)-207-0210 for Immediate Service.
Our MLS Listing Services Features Include:
Fee paid to DFWCityhomes at the time of the in-home consultation for the setup of the listing and marketing for your home. See – What is your setup fee for?
The amount advertised and paid to the Buyers agent at closing as an incentive to sell your home. Buyer commissions are not regulated and we will offer any amount you are willing to pay. 3% is the recommended amount to pay the Buyers Agent to be competitive with other offerings.
The term of the Listing Agreement. If you are dissatisfied with our services or simply want to make a change you can cancel at any time without penalty as long as a commitment to a buyers agent has not been created with a purchase contract. Additional setup fees apply if extended.
We do not have hidden fees. Some discount brokers charge extra for signs, professional pictures, open house advertising, lock boxes and more.
We meet with you at your home to preview your property, offer suggestions to enhance your property, review your market analysis, listing agreement, marketing plan, further discuss and plan how we work together to sell your home.
We work with you to set a marketing strategy based on your needs. That impacts how quickly we get your home on the market and how it is priced.
We prepare a Comparative Market Analysis (CMA) of comparable sold properties to help determine the value of your home to generate the maximum interest and profit. We provide as much available market information from MLS as required to confidently let you establish your asking price. See – What is a Comparative Market Analysis? How do I get one?
You are assigned one point of contact at DFWCityhomes to work with you throughout the entire process.
MLS is the electronic clearinghouse for brokers and agents to share listings. Our MLS is the Metrotex Association of Realtors covering all of Northeast Texas. Members are other brokers and agents that find your home for sale in MLS and bring buyers to preview and purchase. We gather information during your In-Home Consultation and setup your draft MLS Listing for your review and approval. See – What is the Multiple Listing Service (MLS)?
Leads generated from marketing your home are screened to find ready, willing, and able buyers for your home. How we process those direct leads is based on your listing service level.
We provide a professional multi-color sign for your yard. See – What type of yard sign does DFWCityhomes provide? How we process those direct leads is based on your listing service level.
With a smartphone a buyer that calls from our sign can enter your street number to hear an "Audio Tour" of your home. At the same time a text is sent with a link to view your listing on their phone. If desired, they can leave a message. How we receive and process those direct leads is based on your listing service level. Call (469) 507-2070 and enter 555 with your smartphone for a test run.
Your property information is transmitted to all major regional and national real estate portal websites and hundreds of local real estate company websites through MLS and our listing partner ListHub. See – Where is my home advertised on the Internet?
We promote your home on DFWCityhomes, YouTube, FaceBook, Linkedin, Instagram, Pinterest, and Twitter. You can help get the momentum going – On most of these social media and display sites you can Like, Tweet, Add a Comment, Follow, Rate, Reply, Pin and Post to your family, friends and acquaintances. It helps promote your home.
We provide a professional color flyer in PDF format for display and distribution in your home. For Full and Luxury Service levels we provide a display box and hard copy flyers or brochures.
Open houses are an opportunity to show your home to buyers that do not have representation, have an agent but are also looking on their own, or not quite yet ready to buy. We rely on the internet to bring in potential buyers and advertise your open house on MLS, Zillow, Realtor.com, broker and agent websites and many others. You can host your own open house events and at Full and Luxury Service levels we host your open house events.
ShowingTime is the service agents use to schedule property showings. We set up ShowingTime completely for you and give you a password to make your updates. Feedback is requested after each showing and comprehensive reports regarding all activity on your property are provided. See – What is ShowingTime? at Full and Luxury Service levels we set up and monitor ShowingTime completely and make all updates for you.
All forms and contracts are approved for use by the Texas Real Estate Commission and completed, prepared, and reviewed by DFWCityhomes with you for your approval.
We review your closing statement and advise you on any issues that arise and help coordinate the response to any requirements required of the seller or the MLS listing broker and help with post closing issues if they arise. At Full and Luxury Service levels we attend your closing.
We only represent you exclusively in the transaction. See – What is intermediary representation and what is a sub-agent?
For our Luxury Service Level we produce professional full color brochures placed in the home that tells the story of your home. These brochures include photos of the home, along with key features, a full description, and room dimensions.
For our Luxury Service Level we produce a book for agent's and buyer's review in the home containing disclosures, survey, and other information.
For our Luxury Service Level we include professional staging advice at no additional cost. Staging is an additional charge depending on the size of your property, numbers of areas staged, number, quality and price points of furnishing needed to stage your home.
For our Luxury Service Level, special advertising and promotion arrangements are made on a case by case basis and may incur additional charges to the seller. These might include featured home spotlights on realtor.com and other luxury websites, just listed postcards, drone videos, professional pictures, and virtual slide shows, newspaper advertising, press releases, broker open house, and special events held at the house in addition to other marketing.